We are so excited to be releasing JamarGig – "Jam · R · Gig" shortly which will revolutionize how casting/auditions are managed both online and live.
But before describing what we are releasing I thought it would be worthwhile explaining why we are doing this and how this came about.
As the CEO and founder of Launchpad6, the team and I have been delivering competition management software since 2015. We have learnt a lot along the journey and also met some amazing people.
One of those people is Rick Tjia, a globally respected Choreographer and Casting Director from Montreal. Rick has worked in organizations such as La La La Human Steps, Cirque du Soleil and has also formed his own company called Choreography Online. Rick is also a composer, a dance and acrobatic choreographer, and judges dance competitions, and teaches various workshops around the globe.
Rick also happens to be a customer of Launchpad6 where he is using ContestPad to host his International Online Dance Competition.
Through this relationship Rick and I discussed opportunities to work together to fill much needed gaps in the entertainment industry for effectively finding and assessing talent for roles and performances.
Through this discussion Rick introduced us to Angela Calo. Angela has been performing and casting in the entertainment industry from the age of 3. Angela has performed all over the world and had the honor of singing for Pope John Paul II at his summer home in Rome, Italy in 1999. Angela has also been a featured performer for Royal Caribbean International for over 14 years and has most recently spent her time on the stage performing iconic roles such as Miss Lynch in Grease, Mama Morton in CHICAGO the Musical, and Grizabella in CATS.
Angela has seen first hand the frustrations of how casting calls have been managed and the stress this can add to Talent in an already highly stressful industry. Angela knew there had to be a better way. Angela's entrepreneurial spirit drove her to single handedly develop a new solution for Talent and Casting called Gig2Gig.
Gig2Gig aimed to revolutionize the casting process. Many hours went into research and design of this ground breaking solution with one of the keys goals to reduce the stress to talent and provide better outcomes. Unfortunately, due to Covid and other circumstances beyond Angela's control Gig2Gig stalled.
That is until we all joined forces. Leveraging the subject matter expertise of Rick, the foundations, research and down right energy and passion of Angela and the online software expertise of Launchpad6, Gig2Gig was reborn as JamarGig.
Angela, Rick and the Launchpad6 team got to work re-analysing the challenges in the industry, especially since the COVID pandemic and applying many lessons learned from Gig2Gig and Launchpad6.
Our goal is to provide a socially responsible solution that not only drives better streamlined and transparent processes but also helps improve the lives of talent by providing constructive feedback and recommendations using advanced machine learning and AI.
We identified key gaps in the process such as poor transition from online to live auditions, lack of collaborative communications between talent, talent agents, casting directors and clients, manual holding room management, messy record keeping, lack of modern and user friendly platform interfaces and many more.
We progressed through extensive design and development of JamarGig, leveraging where possible the Gig2Gig foundations to bring to market a complete, modern and collaborative audition management software solution.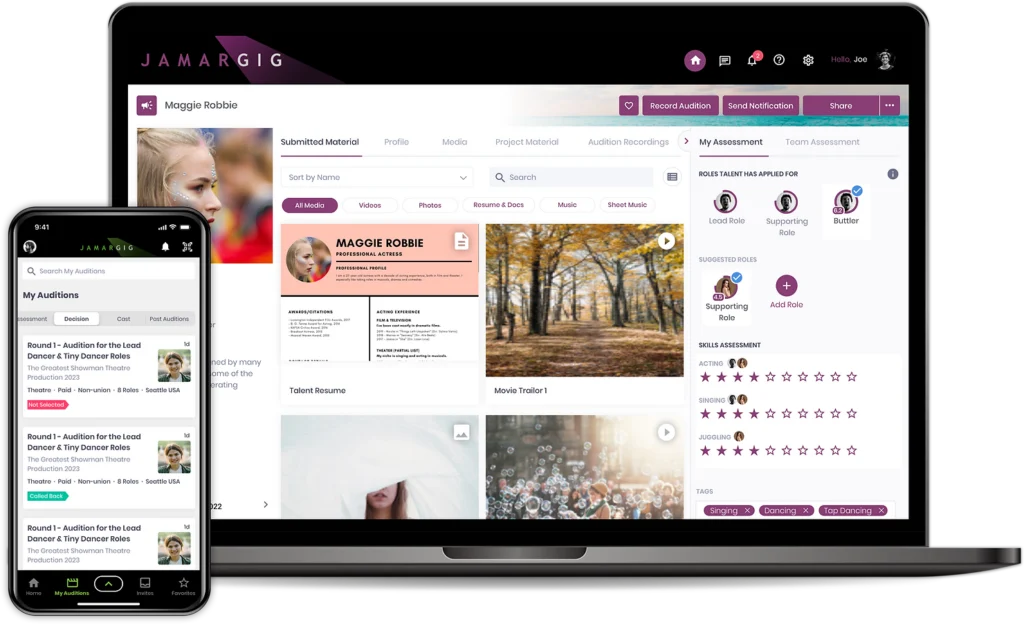 Some key JamarGig features include:
Private Talent databases allowing agencies to search profiles
White labelled casting agency sites
Secure storage of full talent history including past assessments, profile notes, audition recordings and casting communications
Seamless multi-round projects for both online and live audition performances
Direct notifications and communications with talent and casting team
Real time chat between team members
Up to date assessment progress between casting and talent
Decision notifications and recommendations to talent
Casting list assignment and streamlined casting approval and collaboration
Direct video upload and captures
Smart talent search based on profile and past assessments
and many many more….
We are so excited to be bringing JamarGig to life and helping make a real difference to lives of talent and casting members all over the world.
We would love to have you join us on this journey by contacting us at https://www.jamargig.com/